We picnicked out in Central Park for Shakespeare tickets last month. Waiting for standby tickets was a *much* better deal than waiting out all night for tickets at the Public!
There was only one lady ahead of us in line, although some of us ended up sitting all the way back in row W for the first half. Check out the "Who's your daddy" healdline in the ad in this picture of me.
Our neighbors in line, kickin' back.
Mina celebrated her birthday at the Soft Spot on June 16th.
Look at how happy Mina is for cupcakes!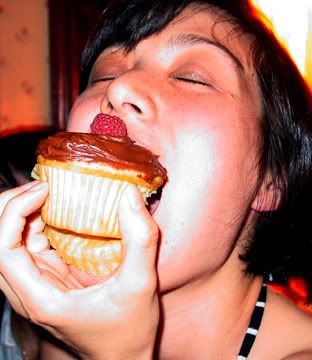 Look at how happy I am for cupcakes.
I'm only posting this because Mina said it would make her happy (I find it a bit unflattering, go figure, although of course, it was my idea completely to pose this way). This one's for you Mina!
Later in the month, Julia and I got dressed up for Constance's going away party. As the invite suggested, we showed our love by dressing up as something beginning with "C." Constance was a canary, and there were cops, a cloud, Truman Capote and Coco Chanel, and my personal favorite, a compost heap. You may or may not recognized from Halloweens past:
Coyote
and Cat.
At least, that's how we started out the evening. By the end of a *very* fun night of drinking, dancing, and general merrymaking, we looked like this: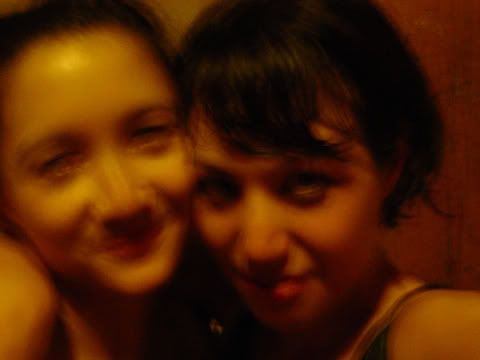 To see how we got this way, check
this
out (you'll have to scroll down for pictures of us getting sweaty on the dance floor and Eric Forman completely in mid-air).
The next day, I went to Prospect Park to meeet Mina, Tara, Bichthu and others for a picnic and a game of croquet. We wore white, of course, but what you can't see is my horrible hangover!!