I know, I'm a little behind the times, but I figure it's never too late to post some great pictures. About forty of Julia's closest friends showed up to help her celebrate the big 3-0. Hard to believe, right? But no worries, she still looks about 12. See?
It's like a pan-Asian convention in here.
I didn't even realize it until later, but I managed to capture the elusive Miss Shipra on film!!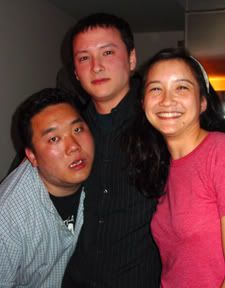 Even Mattias showed up...not at all drunk. Don't ask me what Sang is doing, because I really don't know. Julia looks cute though!
Elliott's kissy face and Tara's big smile!!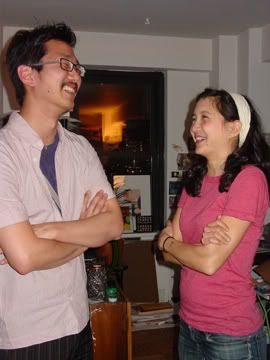 Roy and Julia increase their rapport by
mirroring
each other .
Again, don't ask me about Sang...
You know what they say, it's not a party until someone (hopefully the mother of a small child) fashions a penis out of tin foil! Well, it makes Eric happy.
Getting later, drunker.
There's still more to come, but in a completely unrelated topic, James and Philip got themselves in
Gothamist
(and the online version of
Pravda
, of all places) for participating in Transportation Alternatives' annual commuter race. James was the car guy and Phillip was the subway guy. Both of them were beat by a nurse practioner named Luci on her bike!! Check out the link, there's a picture of Phillip and James looking sheepish (James look sheepish, Phillip just looks like Phillip), with Luci of course.